12 musicians who are also food activists
Not all musicians fit the stereotype of being self-involved and shallow. In fact, many musicians also care about and promote social causes. When they are not selling-out stadium shows or releasing new albums, these 12 musicians lend their time – and their voices – to promote food and agriculture initiatives, and use their celebrity platform to raise money and awareness to combat hunger and poverty.
Co-authors Ellen Gustafson and Danielle Nierenberg, the co-founders of Food Tank, hope to bridge the domestic and global food issues by highlighting how hunger, obesity, climate change, unemployment, and other problems can be solved by more research and investment in agriculture.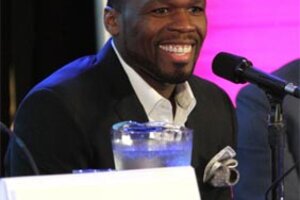 1.

50 Cent

Known for his entrepreneurship as much as his rap music, 50 Cent has proposed an ambitious goal to donate 1 billion meals to the World Food Program (WFP) over five years. Each meal is a US $0.10 donation, which means that 50 Cent aims to raise US $100 million for WFP. In order to reach this goal, each sale of 50 Cent's Street King energy drink will count as one meal for donation to the WFP.