National Ice Cream Day: 7 smooth recipes
We have jelly-bean loving President Ronald Regan to thank for taking ice cream as a national pastime very seriously. In 1984, he declared July as National Ice Cream Month, and July 15 as National Ice Cream Day. That day has evolved to the third Sunday in July. So if you needed any more prompting to eat ice cream today, here are seven recipes from Stir It Up! to whip up in your own kitchen.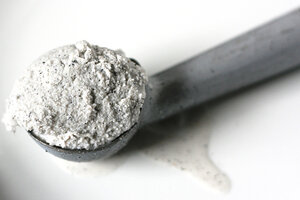 The Asian Grandmothers Cookbook
1.

Black sesame ice cream

By Patricia Tanumihardja / The Asian Grandmothers Cookbook

Makes: 1 quart
Time: 10 minutes, active

2 cups half-and-half, or heavy cream

3/4 cup sugar

1/8 teaspoon salt

2 cups whole milk

1/2 teaspoon pure vanilla extract

1/4 cup black sesame seeds

Special equipment:
Spice grinder

Ice cream maker

1. Combine 1 cup of the heavy cream, the sugar, and salt in a large bowl and whisk until the sugar is completely dissolved.

2. Stir in the remaining 1 cup heavy cream, the milk, and vanilla extract. Cover and chill in the fridge for at least 1 hour. (If you are in a hurry, skip this step.)

3. Grind the sesame seeds in a clean spice grinder for about 5 seconds until they turn into a coarse powder. Don't grind for too long as the seeds will turn into a paste.

4. Pour the mixture into your ice cream maker and slowly pour in the ground black sesame. Churn according to the manufacturer's instructions. Transfer the ice cream to a freezersafe container and freeze for at least four hours or overnight.