Eat more kale! 22 recipes using kale
Kale, that unruly, leafy vegetable, has been enjoying an increased popularity among home cooks and chefs alike. People who belong to community supported agriculture (CSA) often receive bags of kale during its harvest season in early spring or fall. Even though you can find fresh kale in July and August, kale tastes sweeter after the first frost. It can be used in salads, side dishes, as a garnish, and even in smoothies. Here is a list of kale recipes from our Stir It Up! bloggers.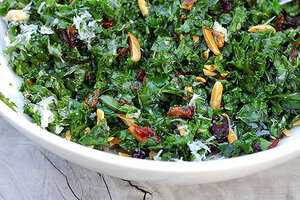 Garden of Eating
1.

Citrus-massaged kale salad

By Eve Fox, Garden of Eating

This salad works great as a main course for a light summer dinner, or a side next to some chicken or a pork chop. Massaging the kale with lemon juice makes it a little softer and easier to chew.

Serves 4

2 bunches of kale (about 1 lb), rinsed and dried, center ribs and stems removed, leaves thinly sliced crosswise

Juice of 2-3 lemons

2 tablespoons olive oil

2 tablespoons maple syrup or honey

1/4 cup lightly toasted pine nuts or almonds

1/4 cup dried cherries, cranberries or currants

1/3 cup freshly grated Parmesan or Romano cheeses plus some bigger shavings to top the salad with

Sea salt to taste

Freshly ground black pepper to taste

1. Place the thinly sliced kale in a large bowl and toss with the lemon juice and olive oil (add more of either thing if you feel like there's not enough to cover everything.) Massage the mixture with your fingers until all of the kale is well-coated and looks a bit darker in color. Let sit for a half hour (or not, if you're in a hurry!)

2. Add the rest of the ingredients and toss to coat. Give it a taste and adjust the seasonings, if needed. Top with the shaved cheese and serve.