8 smoothie recipes
When you are too tired, late, hot, or lazy to make a meal, smoothies are the perfect anti-cooking antidote. In just a few seconds, you can whip up your favorite combination of fruits, juices, and even vegetables for a pick-me-up breakfast or snack.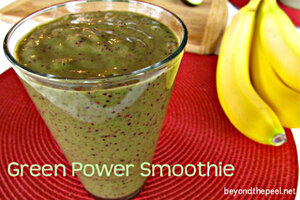 Beyond The Peel
1.

Green power smoothie

By France Morissette and Joshua Sprague / Beyond The Peel

3 cups of greens (kale, chard, spinach or spring greens.)

1/2 cup frozen blueberries

1/2 cup red frozen fruit (I use sour cherries or frozen cranberries mixed)

1 banana

1/2 avocado, flesh only

1/4 cup plain Greek yogurt or vegans: use coconut milk (I use Tree Island Vanilla Yogurt which is not sweet)

1/4 wedge of lemon, juice only

1/2 cup water (up to 1 cup)

Optional additions (1 tablespoon of ground flax or ground chia seeds)

In a blender, add the greens. If using kale, remove the tough spine and use only the tender parts. With chard I use the whole thing. Add the blueberries, red berries, banana (this lends the sweetness), the avocado, yogurt, squeeze of lemon juice (this masks the taste of the greens) and the water. Blend until smooth. You may need to use the pulse setting to get everything blended properly. Add a little more water if it's too thick. Drink immediately.

Recipe notes:

Key ingredients are banana, avocado, greens and lemon juice.

Banana: Bananas makes it sweet without adding sweeteners like honey or maple syrup or soaked dates. If you like it sweeter, add a little sweetener of choice until you've reached the level you're looking for.

Avocado: It makes this liquid meal last, so you won't feel hungry again in an hour.

Lemon Juice: It masks the taste of the dark leafy greens. I've even made this smoothie with broccoli. The texture isn't as smooth, but it works in a pinch.

Dark Leafy Greens: If 3 cups of greens sounds like too much, start with one and build up. The healthiest way to consume kale and chard is to have it lightly steamed. If you would like to add a step, steam the chard or kale ahead of time and add it to the smoothie cooked.