Memorial Day: cookbooks for grilling outdoors
Nothing says summer like grilling, but achieving the perfectly seared creation isn't as easy as throwing meat on charcoal. These seven, recently released cookbooks could give you the steps and recipes you need to have a grill-tastic summer, whatever your tastes or skill level may be. Get ready to fire it up!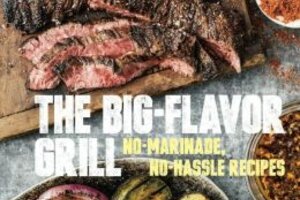 1.

The Big-Flavor Grill by Chris Schlesinger and John Willoughby

In their ninth cookbook together, former East Coast Grill owner and chef, Chris Schlesinger, and former Gourmet executive editor, John Willoughby, team up once more with "The Big Flavor Grill: No Marinade, No Hassle Recipes," a no-frills approach to grilling their way – bursting with flavor.

"We want to dial it back, to get out from under the yoke of complex formulations and intricate preparations," they write in the book's introduction. "We want to take you back out to the grill, where cooking can be spontaneous and the food is easy but full of bold, intense flavors. One of the best things about grilling is that it is a supremely simple process."

Each recipe is broken down into three steps: prep, grill, and toss. Picture skirt steak with smoky red onion and grilled avocados; grilled pork skewers with grilled peaches and arugula; grilled baby back ribs with maple-bourbon barbecue sauce – whatever taste explosion you're looking for, these two grilling mavericks will teach you how to serve it up.