Hey Michelle Obama! Way to turnip the beet!
Michelle Obama has rocked the White House lawn since she turned it over to make a White House kitchen garden. Her viral Vine video, in which she holds up a giant turnip and then dances to "Turn Down for What" by DJ Snake and Lil Jon, is just her latest move to prove that vegetables are cool, kids. Here are five recipes to help you turnip the beet in your kitchen.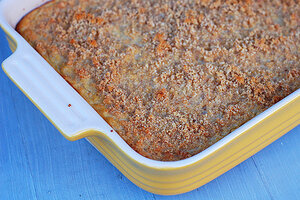 Garden of Eating
1.

Turnip puff

Recipe via Kitchen Parade
Serves 4

3 pounds purple-topped turnips (about 6 large) or rutabagas (about 1 large)
2 eggs
2 tablespoons butter
3 tablespoons flour
1 tablespoon brown sugar
1 teaspoon baking powder
1 teaspoon kosher or sea salt
1/2 teaspoon white pepper
Pinch nutmeg
1/2 cup panko or dry bread crumbs
2 tablespoons melted butter

1. Preheat oven to 375 degrees F. and bring a medium sized pot of salted water to a boil. Peel the turnips or rutabagas and cut into roughly equal-size quarters and cook at a gentle boil until soft.

2. Mash the turnips or rutabagas in a large bowl – you can do this by hand, with an immersion blender, or in a food processor. Add the eggs, butter, flour, brown sugar, baking powder, salt, pepper and nutmeg and combine well. Transfer to a buttered casserole dish.

3. Combine the crumbs and butter and sprinkle evenly on top and bake until lightly browned on top, about 35-40 minutes.

Read the full post on Stir It Up!