22 perfect pumpkin recipes
From front porches, to your morning coffee, pumpkins (or their essence) are popping up everywhere! We've got 22 recipes to bring this most distinctive flavor of fall into your kitchen.
Plan a special Thanksgiving breakfast with pumpkin pancakes, or put extra seeds to work with pumpkin seed-crusted chicken. Whether you're carving, roasting, or picking up canned pumpkin from the store we've got you covered!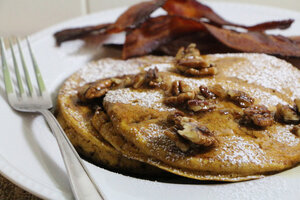 The Gourmand Mom
1.

Pumpkin pancakes with butter pecan syrup

By Amy Deline, The Gourmand Mom
Slightly modified from Martha Stewart's Pumpkin Pancakes
Makes about 12-15 pancakes

2-1/2 cup all-purpose flour
1/3 cup sugar
4 teaspoons baking powder
1-1/2 teaspoon cinnamon
1 teaspoon ginger
1 teaspoon salt
1/4 teaspoon nutmeg
Pinch of ground cloves
2 cups milk
3/4 cup pumpkin puree, fresh or canned
4 tablespoons melted butter
2 eggs

1. Combine the flour, sugar, baking powder, cinnamon, ginger, salt, nutmeg, and cloves in a large bowl.

2. In a separate bowl, whisk together the milk, pumpkin puree, melted butter, and eggs.

3. Gradually pour the wet ingredients into the dry ingredients, whisking until well blended.

4. Melt a little butter in a skillet over medium heat. Pour about 1/3 cup batter for each pancake. Cook pancakes approximately 3 minutes per side.

Butter pecan syrup

1/2 cup pecans, chopped
1-1/2 cups real maple syrup
4 tablespoons butter
1 teaspoon vanilla extract
Pinch of salt

1. Melt 1 tablespoon of the butter in a saucepan, over medium heat. Add the chopped pecans.

2. Cook for about 3 minutes, until fragrant.

3. Add the maple syrup, butter, and vanilla extract. Continue to heat over medium-low/medium heat until the butter has melted and blended with the syrup. Season with a pinch of salt. Serve warm.