10 slow-cooker recipes
Whether you are responsible for juggling the family schedule, or a busy professional on the go, or just someone who doesn't like to spend hours in the kitchen, slow cookers are a must-have in your arsenal of kitchen tools. Slow cookers can help get dinner cooking without requiring hours of careful watching. There's nothing quite like coming home after a long day to a home perfumed with the smell of a meal ready to eat.
Here are 10 slow-cooker recipes from Stir It Up! bloggers to keep things feeling easy and delicious in the kitchen.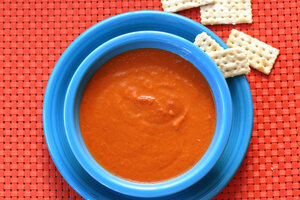 The Runaway Spoon
1.

Simple slow cooker tomato soup

Serves 6 – 8

1/4 cup (1/2 stick) unsalted butter
1 package frozen carrots, celery and onions ("mirepoix blend"), thawed and drained
2 teaspoons minced garlic (freshly minced or from a jar)
2 28-ounce cans crushed tomatoes
1 32-ounce box low-sodium chicken broth
5 sprigs fresh thyme\
5 sprigs fresh oregano
Salt and pepper to taste
1/2 cup heavy cream (optional)

1. Cut the butter into small pieces and place in the crock of a 7-quart slow cooker. Partially cover and leave for a few minutes to melt. Add the vegetables and garlic, stir to coat with the butter, cover the slow cooker and leave to soften, about 20 minutes.

2. Pour the tomatoes and broth into the slow cooker and stir to combine. Tie the sprigs of thyme and oregano together with kitchen twine to make a neat little bundle. It is OK if leaves come off, but you don't want stems in your soup. Tuck the herb bundle into the soup, cover the slow cooker and cook for 5 to 6 hours on high, or 7 to 8 hours on low.

3. When ready to serve, fish out the herb bundle and discard. Use an immersion blender to purée the soup until smooth (you can also do it carefully in batches in a blender). Season with salt and pepper to taste. If you want a creamier soup, stir in the heavy cream and leave to warm through.

Variations:

Add 1 tablespoon curry powder to the vegetables, omit the herbs, and stir in 1/2 cup coconut milk instead of heavy cream.

Add a small can of chopped green chiles to the vegetables, omit the herbs.

Stir in a can of rinsed and drained cannellini beans 20 minutes before the end of cooking time and warm through.

Stir in some cooked pasta or rice at the end of cooking until warmed through.

30 minutes before the cooking time ends, stir in some finely chopped spinach and cook until wilted and warmed through.

Read the full post on Stir It Up!