Bundt cake recipes
Bundt cakes, named for the pan in which they are baked, are the perfect dessert for picnics, potlucks, or feeding a crowded household over a holiday. Drizzle them with sugar frosting or serve with spoonful of hot fruit compote or eat them plain with just a sprinkling of powdered sugar as an afternoon tea cake. Browse through our Bundt cake recipe collection to find the perfect recipe for every season.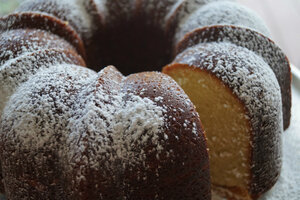 Kitchen Report
1.

Sour cream pound cake

Kendra Nordin, Kitchen Report

Serves 20

1/2 pound (2 sticks) butter
3 cups sugar
1 cup sour cream
1/2 teaspoon baking soda
3 cups all-purpose flour
6 large eggs
1 teaspoon vanilla

1. Preheat oven to 325 degrees F.

2. Grease and flour a 10-inch tube pan. Set aside.

3. In a large mixing bowl, cream the butter and sugar together. Add the sour cream and mix until incorporated.

4. Sift the baking soda and flour together. Add to the creamed mixture alternating with eggs, beating each egg 1 at a time. Add the vanilla and pour batter into the greased tube pan. Bake for 1 hour 20 minutes.

5. Let cool 15 minutes in the pan on a wire rack before turning out of the pan. Cool completely before serving.