8 recipes for the backyard grill
Summertime is grilling time. Grab one of these recipes, a grill, and you're set.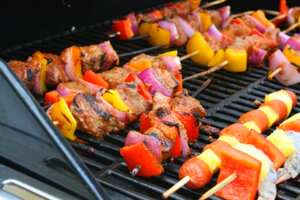 Amy Deline/The Gourmand Mom
1.

Beef kebabs with an Asian-style cherry barbecue sauce

For the sauce:
2 tablespoons sesame oil
1/2 red onion, finely diced
3 cloves garlic, peeled and smashed
15 fresh cherries, pitted and halved
1/4 cup tomato paste
1 tablespoon rice wine vinegar (or red wine vinegar)
2 tablespoons honey
2 teaspoons chile paste
1/2 teaspoon ground mustard
1/4 cup water
Salt and cayenne pepper, to taste

For the kebabs:
2 pounds beef sirloin, cut into 1-1/2-inch cubes
1 red onion, cut into large chunks
3 sweet peppers (red, orange, yellow, and/or green), cut into large chunks

1. To prepare the sauce: Heat the oil in a pan over medium heat. Add the onion and garlic. Cook for 3-5 minutes, stirring frequently, until the onion is tender. Add the cherries. Continue cooking for another 5-7 minutes. Reduce the heat. Add the tomato paste, vinegar, honey, chile paste, and ground mustard. Stir to combine. Allow the mixture to cool slightly, then purée the mixture until smooth using a blender, food processor, or immersion blender. Add the water to slightly thin out the sauce. Taste and adjust seasoning with salt and cayenne pepper, as desired.

2. To prepare the kebabs: Toss the chunks of beef with about 3/4 of the sauce. (Save the rest for brushing the kebabs during cooking.) Allow the beef to marinade in the sauce for a few hours or overnight. Soak wooden skewers in water for at least 30-45 minutes (which will prevent them from burning on the grill). Place the meat, peppers, and onions on the skewers in an alternating pattern. Preheat your grill to medium heat. Grill the kebabs for a few minutes on each side, until the meat is cooked to your desired doneness. Towards the end of the cooking time, brush the kebabs with the reserved sauce.

See the full post on Stir It Up!