Favorite Asian recipes to try at home
With our collection of more 30 Asian recipes, from countries including Korea, Thailand, China, and Vietnam, we think you'll have everything you need to plan your next Asian-themed lunch or dinner. The recipe categories listed include an assortment of spring roll appetizers, followed by main dishes grouped as either seafood, vegetarian, pork, or chicken/duck based. This way you can look inside your refrigerator, see what you have, and then easily plan your whole menu at a glance.
So, whether you've never seen a Vietnamese "banh mi" sandwich, you're trying Korean kimchi for the first time, or you grew up in Thailand and are rolling spring rolls for the 100th time, there's something here for everyone from the beginner cook to the master chef. Some of our favorites include the Vietnamese-style sandwiches, fresh spring rolls with herbs and crispy tofu, easy Pad Thai, and the Korean-braised short ribs. So skip the takeout and make these dishes at home!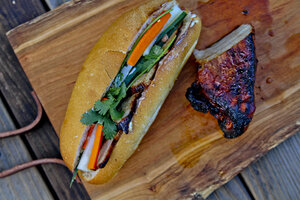 The Ravenous Couple