17 fresh fruit desserts
Get the vanilla ice cream ready! Summer into fall is the season for fresh fruit crisps, cobblers, and pies. Warm fruit in a delicious pastry crust or topped with a crumbly biscuit is comfort in a bowl. From the first sprouts of rhubarb in the spring all the way to the crisp apples of fall, be sure to capture the season's fleeting jewels in a few of these baked goods.
Here are 17 mouth-watering recipes.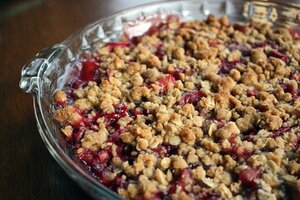 Whipped, The Blog
1.

Rhubarb maple crisp

Makes 4-6 servings

1/2 cup light brown sugar, firmly packed
1/2 cup maple sugar (if you don't have this, do 1 full cup brown sugar)
1 cup flour
3/4 cup oats (I like it better with old fashioned, not quick cooking. Either will work)
1/2 cup melted butter
1/2 teaspoon cinnamon
4 cups sliced rhubarb
3/4 cup granulated sugar
2 tablespoons cornstarch
1 cup water
1/2 teaspoon vanilla

1. Combine brown sugar, maple sugar, flour, oats and cinnamon in a bowl. Stir with a whisk to combine all the dry ingredients. Slowly add the melted butter stirring to combine. Mix together until crumbly.

2. In a saucepan combine the water, granulated sugar, cornstarch and vanilla. Cook and stir until the mixture becomes transparent and has thickened.

3. Press about 1/2 of the crumble mixture into the bottom of a pie plate or 8 inch square pan. Top with sliced rhubarb. Pour the water and sugar mixture over the rhubarb. Sprinkle the rest of the crumble over the top. Bake in a 350 degree oven for 45-50 minutes or until it is bubbly and topping is slightly browned.

4. Serve warm with a scoop of vanilla ice cream or cold. It tastes great the next day!

Read the full post on Stir It Up!