10 Nutella recipes
Nutella is widely known and loved as a chocolate hazelnut spread for breakfast toast. But more home cooks are experimenting with incorporating Nutella into baked goods such as brownies, cookies, and cakes. Here are 10 recipes from our Stir It Up! bloggers for you to try out in your own kitchen.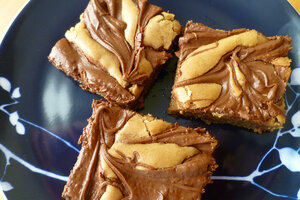 The Pastry Chef's Baking
1.

Nutella-swirled chocolate chip blondies

1/2 cup unsalted butter (1 stick), melted
1 large egg
1 cup light brown sugar, packed
1 tablespoon vanilla extract
1 cup all-purpose flour
1 cup chocolate chips
About 1/3 cup Nutella (more if you wish)

1. Preheat oven to 350 degrees F. Line an 8- x 8-inch baking pan with aluminum foil, spray with cooking spray; set aside.

2. In a large, microwave-safe bowl melt the butter, about 1 minute on high power.

3. Cool briefly before adding the egg so that it doesn't cook. Add the egg, brown sugar, vanilla, and whisk until smooth.

4. Add the flour and stir until just combined, don't overmix. Stir in the chocolate chips.

5. Turn batter out into prepared pan, smoothing the top lightly with a spatula.

6. Evenly add and swirl the Nutella. To create the marbled pattern shown, drizzle Nutella over batter in 5 wide, evenly spaced, parallel lines, each spanning the length of the pan. Like 5 rows of long train tracks. Rotate pan 90-degrees. With a toothpick, starting at the top of the pan, "draw" 4 or 5 evenly spaced lines through the Nutella. You're dragging the toothpick perpendicularly through the first set of lines to create the marbling.

7. Bake for about 20 to 25 minutes, or until done. A toothpick inserted in the center should come out clean, or with a few moist crumbs, but no batter. Allow bars to cool in pan for at least 30 minutes before slicing and serving.

Read the full post on Stir It Up!