15 tasty toast toppings
Whether you call your open-faced sandwich a tartine, crostini, bruschetta, or smørrebrød, toppings on toast are one of the latest fashionable food trends. What's not to like? With either savory or sweet toppings nothing says 'comfort food' like a thick piece of toasted bread. Here are a few ideas from Stir It Up! to get you started on your next favorite snack.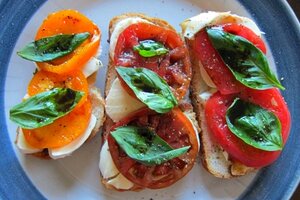 The Rowdy Chowgirl
1.

Meatless Monday: Heirloom tomato tartine

Close grained French bread, sliced
Sliced heirloom tomatoes
Fresh mozzarella
Basil leaves
3 tablespoons balsamic vinegar
3 tablespoons olive oil
Salt
Freshly ground pepper

1. Run bread under the broiler to toast lightly on the top side only.

2. Layer slices of tomatoes, thinly sliced mozzarella cheese, and basil leaves.

3. Stir oil and vinegar together, then drizzle lightly over tartines. Sprinkle with salt and freshly ground pepper.

Read the full post on Stir It Up!