20 pasta recipes to simplify your weeknight
Pasta could be the ultimate comfort food. It also serves as a blank canvas for all types of flavors from hearty tomato sauce to sauteed vegetables and more. And when you are in a hurry and have no idea what to make for dinner? Pasta can bring it all together quickly. Here are 20 pasta recipes sure to satisfy on fast-paced weeknights or the next time you host friends and family for a leisurely dinner.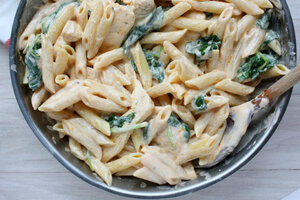 1.

Quick and tasty weeknight meal: adobo chicken pasta

Serves 2

10 ounces dry pasta
1 large chicken breast
1/4 cup, plus 2 tablespoons adobo sauce
1 large handful fresh spinach
1/3 chipotle pepper in adobo sauce (optional), minced
1 cup plain Chobani fat free Greek yogurt
2 tablespoons maple syrup
1 tablespoon olive oil
salt and pepper to taste

1. Heat a large pot of water and cook pasta according to directions.

2. Cut the chicken breast into thin slices, and cook, along with 2 tablespoons adobo sauce, until fully white in a large saute pan over medium heat (and a splash of olive oil if it's not a non-stick pan).

3. When the chicken is almost done, add the handful of spinach and cook until wilted.

4. In a separate bowl, mix together the remaining adobo sauce, yogurt, maple syrup, and olive oil.

5. Combine the pasta with the chicken, spinach, and sauce. Mix to combine. Season with salt and pepper to taste.

Read the full post on Stir It Up!