10 rhubarb recipes for spring
Some people claim rhubarb is a vegetable, others say it is a fruit. It's now grown year-round in greenhouses but late April early May is when many gardeners start to harvest the thick, red stalks to make a range of sweetened desserts and dishes. Rhubarb compote is delicious on vanilla ice cream. Strawberry rhubarb pie is a classic favorite. See if you find a new favorite among these offerings from Stir It Up! bloggers.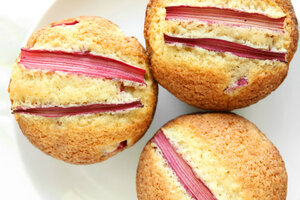 The Kitchen Paper
1.

Brown butter rhubarb muffins

By Marry Warrington, The Kitchen Paper

Brown butter rhubarb muffins

Serves: 6-10

8 tablespoons unsalted butter
1/3 cup milk
2 eggs
1 teaspoon vanilla
1-2/3 cups flour
3/4 cup + 1 tablespoon sugar
1-1/2 teaspoons baking powder
3/4 tsp salt
2 cups chopped rhubarb*

1. Preheat the oven to 375 degrees F., and prepare a muffin pan with either butter or liners.

2. In a small saucepan over medium heat, melt the butter.

3. Continue to cook the butter, as it crackles and pops, until the crackling stops and the solids have turned a medium-brown color.

4. Remove from heat and pour the putter into a separate dish, as not to burn it.

5. Let the butter cool at least 10 minutes.

6. Whisk together milk, eggs, and vanilla until fully combined. Add the brown butter and whisk together.

7. In a separate bowl, combine flour, sugar (except for 1 tablespoon), baking powder, and salt. Mix to combine, then add the wet ingredients all at once. Stir gently to combine.

8. Toss the chopped rhubarb with the remaining 1 tablespoon of sugar, then fold into the dough. Divide the dough equally among your muffin tins.

9. Bake for 18-20 minutes. Muffins should be golden and crisp on the top, and a cake-tester will come out clean.

10. Let the muffins cool 15 minutes in the pan before removing.

*If you want the same rhubarb-strip-look, take a vegetable peeler and carefully peel a thin layer off of one of your rhubarb stalks before cutting it. Then, cut into lengths the width of your muffin tins, and lay one or two on top of each unbaked muffin.

See the full post on Stir It Up!