11 delicious scone recipes
Scones are similar to their American cousin the biscuit. They both have similar amounts of flour, rising agents, salt, butter, and milk. Even the way they are prepared are similar. Their no-fuss appearance and warmth evokes similar feelings of comfort. So what is the difference? Probably their greatest difference is found in how they are used. Biscuits are thought of as companions to soup and for mopping up gravy from a dinner plate. Scones, which often include a bit of sugar, are associated with British tea time and more as a treat on their own instead of rounding out a meal. To ensure the finest quality of your homemade scones follow three simple rules: (1) use self-rising flour (2) make sure your oven is hot (3) work quickly and lightly with the dough.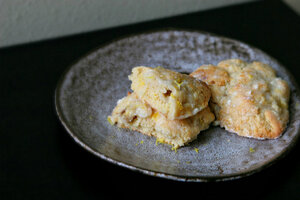 In Praise of Leftovers
1.

Banana lemon scones

Banana Lemon Scones
Adapted from Fine Cooking. I added 1/4 c. brown sugar for two reasons – to make them sweeter and to make them more tender. It had the effect of the scones spreading ever so slightly, but it was worth it. If you want sturdier guys, leave it out. Most scones aren't good the next day, but these are delicious as the banana keeps them moist.

For the scones:
2 cups flour
1/4 cup granulated sugar
1/4 cup brown sugar
1 tablespoon finely grated lemon zest
1/2 teaspoon kosher salt
6 tablespoons cold unsalted butter, cut into pieces
1 medium ripe (but not mushy) banana, cut into 1/4-inch dice
3/4 cup + 2 tablespoons heavy cream(and more for brushing)
coarse white sanding sugar (optional)

For the glaze:
3/4 cup powdered sugar
1-1/2 tablespoons lemon juice
1 tablespoon butter, softened
pinch kosher salt

1. Heat oven to 375 degrees F., and line a baking sheet with parchment paper.

2. In a large bowl, whisk together the flour, sugars, lemon zest, and salt. With your fingers, rub the butter into the flour mixture until a few pea-sized lumps remain. Stir in the banana. Add the cream, and with a fork, gradually stir until the mixture just comes together.

3. Turn the dough onto a lighly floured surface and pat into a 7" circle about 1" high. Using a chef's knife, cut the dough into 8 wedges. Transfer to the baking sheet, spacing the wedges 1-2" apart. Brush the tops with heavy cream and sprinkle liberally with sanding sugar (if using).

4. Bake until tops are golden, about 18-20 minutes, rotating halfway through baking for even browning. Transfer scones to a wire rack and cook slightly, 3 or 4 minutes.

5. In a small bowl, stir the powdered sugar, lemon juice, butter, and salt until smooth. Drizzle the warm scones with the glaze. Serve warm or at room temperature.

Read the full post on Stir It Up!