National Waffle Day: 6 savory and sweet recipes
On Aug. 24, 1869, Cornelius Swarthout of Troy, N.Y., received a United States patent for his waffle iron design. This date has since been declared National Waffle Day in the US, most likely developed and promoted by eateries to entice customers to come in and enjoy a plate of hot Belgium waffles topped with seasonal berries and a huge dollop of whipped cream.
This is an all-day kind of celebration since waffles aren't just for breakfast anymore as "brinner" (breakfast for dinner) has become more popular as a fast way to put a meal on the table at the end of the day. Savory waffles (think salmon or mushroom) have also become trendy as a lighter meal. Or use two plain waffles to make your favorite sandwich.
Here are savory and sweet waffle recipes from Stir It Up! bloggers to help you celebrate National Waffle Day.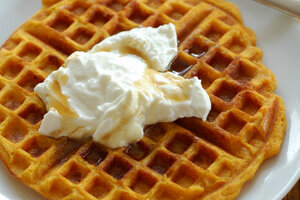 The Garden of Eating
1.

Spiced butternut squash waffles

Serves 4-6

1-1/2 cups cooked, pureed winter squash (you can use pumpkin, butternut, delicata, hubbard, red kuri, etc., and you can either steam or roast it before mashing)
2 cups all-purpose flour
2 cups organic milk
4 tablespoons organic butter
3/4 cup sunflower oil
2 eggs, separated (try to find pasture-raised eggs from a farm near you)
1 tablespoon baking powder
1 teaspoon sea salt
2 teaspoons organic sugar
1 teaspoon pure vanilla extract
1/2 teaspoon ground cinnamon
1/8 teaspoon ground cloves
1/8 teaspoon ground nutmeg
Pure maple syrup for serving

1. Preheat your waffle iron and turn your oven or toaster oven to 200 degrees F. to keep the waffles warm as they come off the iron.

2. Combine the flour, baking powder, sugar, salt and spices in a medium bowl. In another bowl, combine the puréed squash, milk, oil, butter, vanilla and egg yolks. In a third, small bowl, beat the egg whites until they're stiff.

3. Stir the flour mixture into the squash mixture and mix well, then fold in the egg whites.

4. Grease your waffle iron then spoon about 1/3 cup of batter into it if you have a single waffle iron or into each waffle area if you have a bigger waffle maker. Cook until ready, according to your waffle iron's settings. Keep the waffles warm in the oven until ready to serve. Serve with plenty of maple syrup and some fake or real breakfast sausage.

Read the full post on Stir It Up!