15 easy one-dish meals for weeknight dinners
With the return of busy fall schedules it can be hard to find the time to actually cook a family meal instead of resorting to eating out or heating up processed meals in the microwave. Making a one-dish meal is a simple answer. Low on fuss and high in flavor, most of these easy-to-assemble meals take less than 45 minutes from the time you begin food prep until you deliver a hot dish on the table. Our Stir It Up! bloggers love these kinds of meals. Here are a few of our favorites.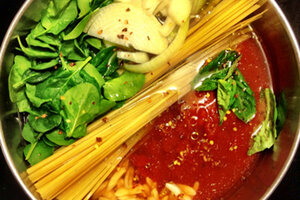 Nest Meg
1.

One-pot pasta

Have you ever tried cooking your pasta and sauce all at once? It works!

Serves 4

12 ounces linguine
16-ounce can diced tomatoes
2 cups fresh spinach
1 onion, thinly sliced
6 cloves garlic, thinly sliced
1/2 teaspoon red-pepper flakes
Kosher salt and freshly ground pepper
4 cups water
4 sprigs basil, divided
4 tablespoons olive oil, divided
Parmesan cheese

1. Combine first eight ingredients in a pot wide enough to allow the pasta to lie flat against the bottom. Add 2 sprigs of basil and 2 tablespoons of olive oil.

2. Put the pot over high heat and bring to a boil. Stir regularly for about 10 minutes.

3. Serve the pasta with the remaining 2 sprigs of basil, drizzle with the remaining 2 tablespoons of olive oil, and sprinkle with Parmesan cheese.

Read the full post on Stir It Up!