8 recipes for pumpkin pie
Nothing quite says "harvest" or "Thanksgiving celebration" than the way "pumpkin pie" does. Uniquely native to North America, pumpkin is likely to have been part of the diet of the early English settlers. Pumpkins became an export to France and England, and in the 17th century was accepted as a pie filler. It wasn't until the 19th century that pumpkin pie in its custard form became associated with the Thanksgiving feast. Early, less sweet versions of pumpkin pie incorporated molasses. With the arrival of Libby's canned pumpkin in 1929, came the annual tradition of baking a Thanksgiving pumpkin pie with cinnamon, ginger, and cloves. Today there are many variations of pumpkin pie to choose from. One of these recipes may become a new favorite!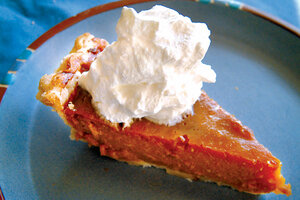 Kendra Nordin/The Christian Science Monitor
1.

Victorian pumpkin pie

2 cups stewed pumpkin purée
1 cup rich sweet milk (I used sweet condensed milk)
1/2 cup molasses
1/2 cup sugar
1 tablespoon melted butter
1 tablespoon ginger
1 teaspoon salt
2 eggs, beaten lightly

Sift flour over bottom of pie shell. Bake until pie is brown in center. (I started the oven at 425 degrees F. for 10 minutes, then reduced the heat to 325 degrees F. and baked for 45 minutes. When a knife inserted near the center came out clean, it was done. Cool on wire rack for 2 hours. Serve immediately with whipped cream or refrigerate.)

Read the full post on Stir It Up!