10 recipes for Thanksgiving leftovers
You may have loosened your belt a few notches after Thanksgiving dinner thinking you'd never eat again – at least not until the next day. After outings for early holiday shopping or walks in the crisp autumn air with family and friends, appetites have a way of reappearing. Enter Thanksgiving leftovers, in some ways more enjoyable than the feast itself because the hours over the stove are done but all the fruits of your labor are available for grazing at your own pace. Here are a few leftover meals that come together quickly to feed any relatives who may still be lingering in your living room.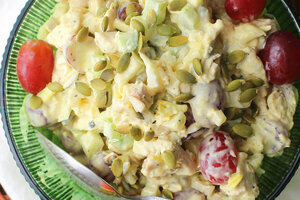 A Palatable Pastime
1.

Curried turkey salad

Serves 4

8 ounces chopped cooked chunk turkey breast or chicken breast
1 cup halved seedless grapes
1 cup finely diced celery
3 tablespoons minced white onion
3 tablespoons toasted shelled pumpkin seeds (pepitas)

Dressing:
1/2 cup mayonnaise
1/4 cup sour cream
1 tablespoon honey
2 teaspoons apple cider vinegar
1/3 teaspoon Dijon mustard
1 teaspoon mild curry powder
Salt and pepper, to taste

Whisk together dressing and fold into salad ingredients. Serve on a bed of leafy greens or sandwiched between your favorite bread.

Read the full post on Stir It Up!