14 recipes for lentils
Lentils are an easy-to-prepare dried bean (no overnight soaking) that blends well into other flavors and provides a nutritional boost. Sold either whole or split, lentils can be green, brown, or red. They are considered a year-round pantry staple that can be used in soothing soups for fall and winter, or give more heft to salads in spring and summer. They also pair nicely with meat, poultry, and fish. Here are 14 lentil recipes to try any time of year.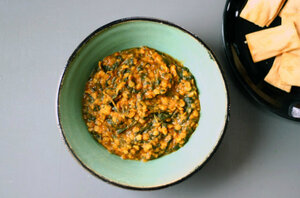 Whipped, The Blog
1.

Dal-palak: lentils and spinach

Makes 4-6 servings

1 cup red lentils
10-ounce package frozen chopped spinach or 1 lb. fresh spinach
1/4 cup tomato paste
1/2 teaspoon turmeric
1/2 teaspoon cayenne pepper (can omit or decrease for less spicy)
3/4 teaspoon salt
5 cloves garlic, finely chopped
3 tablespoons ghee (clarified butter)
1-1/2 tablespoons fresh squeezed lemon juice (about 1/2 a lemon)

1. Wash lentils and then put them in a medium sauce pan with 3 cups water over medium heat. Add spinach, turmeric, cayenne and salt. Cover and cook on medium heat stirring occasionally until lentils are tender (about 15 minutes). When lentils are soft, add tomato paste and stir until incorporated.

2. In a separate statue pan, heat ghee and add garlic. Salute until garlic is golden brown. Stir the garlic mixture into the lentil mixture. Add lemon juice and stir.

3. Serve with naan and/or rice. Can also serve with pita chips.

Read the full post on Stir It Up!