Broiled skirt steak with chimichurri sauce
(Read article summary)
A hearty meat and potatoes dish with a vibrant sauce.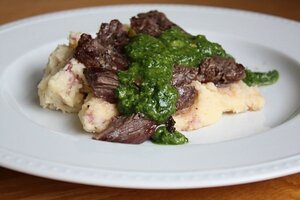 The Gourmand Mom
I'd like to begin this post with some interesting background on chimichurri sauce or perhaps some funny anecdote explaining the creation of this dish. I'd like to tell you about my love for skirt steak or how I adore the horseradish and cheddar I added to my smashed potatoes. I'd even like to explain how fast cooking at high heat produces the most tender, juicy steak. But, I can't do any of that right now, since the only thing ringing through my head is…
Chim chiminey, Chim chiminey, Chim, chim cher-ee, A sweep is as lucky as lucky can be… Chim chiminey, Chim chiminey, Chim, chim cher-oo, Good luck will rub off when I shake hands with you. Or blow me a kiss and that's lucky too…
So, I'm going to skip the background and the stories and get right to the recipes. Then, I'm going to close my computer, load Mary Poppins into the Blu-Ray player, and spend the rest of my day singing about chimneys and spoonfuls of sugar.

Recommended:
Irish lamb stew
Today's meal consists of a fast broiled skirt steak served over smashed red potatoes, loaded with cheddar and horseradish. Topping it off is a vibrant chimichurri sauce, oozing with the flavors of fresh parsley and garlic.
It's a supercalifragilisticexpialidocious kind of meal!
Broiled Skirt Steak
1 pound skirt steak (hanger steak would make a great substitute)
Salt and Pepper
Preheat broiler. Trim any excess fat from the exterior of the steak. Season with salt and pepper. Place the steak on a baking sheet. Cook several inches under the broiler for about 10-15 minutes, to your desired doneness. Allow the steak to rest for 5 minutes before slicing. Slice diagonally against the grain.
Chimichurri Sauce
1 cup fresh parsley leaves, loosely packed
1 teaspoon garlic, minced
1 small shallot, diced
1 tablespoon white wine vinegar
3 tablespoons olive oil
1/4 teaspoon salt, plus more if desired
1/4 teaspoon crushed red pepper, plus more if desired
Combine parsley, garlic, shallot and white wine vinegar in a food processor, blender, or immersion blender, until well blended. Gradually drizzle in the olive oil until a sauce forms. Season with salt and crushed red pepper, as desired.
Cheddar and Horseradish Smashed Red Potatoes
2-1/2 pounds red potatoes, cut into large, even chunks
4 tablespoons butter
1/2 cup milk
1 cup cheddar cheese, shredded
1/4 cup prepared horseradish
Salt and pepper
Place the potatoes in a large pot and fill with enough water until the potatoes are just covered. Bring to a boil, then cook for about 10 minutes, until the potatoes are fork tender. Strain. Add the butter to the hot potatoes and smash to your desired consistency. Add the milk, cheese, and horseradish. Stir until combined. Add additional milk, if necessary. Season with salt and pepper.
Amy Deline blogs at The Gourmand Mom.
To comment on the original post, click here.
--------------------------------------------------------------
The Christian Science Monitor has assembled a diverse group of food bloggers. Our guest bloggers are not employed or directed by The Monitor and the views expressed are the bloggers' own and they are responsible for the content of their blogs and their recipes. All readers are free to make ingredient substitutions to satisfy their dietary preferences, including not using wine (or substituting cooking wine) when a recipe calls for it. To contact us about a blogger, click here.