Chocolate chunk coconut macadamia cookies
(Read article summary)
A sweet, chewy coconut cookie with a nutty crunch.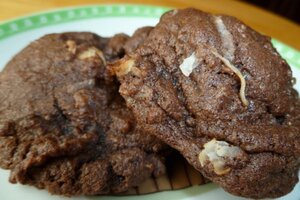 Pastry Chef
The last time I was in New York City, I went to every bake shop in Manhattan that I could conceivably walk to – and believe me, I can walk a lot when there are baked goods involved. I'd heard about the Magnolia Bakery and its sister bakery, the Buttercup Bake Shop, and visited both. At Buttercup, the best thing I ever ate was a slice of their red velvet cake. When I came back from my trip, I bought several of their baking books which had been published by that time. This was one of them. I normally make coconut macadamia cookies as they're a family favorite but I decided to try the chocolate version of them with this recipe. As I think of heading back to work, I also want to stockpile some cookie doughs to have ready in the freezer that I can bake off whenever I need them. Some people advocate baking cookies and freezing them until needed but I prefer to freeze the cookie dough (already portioned into dough balls) and bake them off when I need them. A freshly baked cookie trumps a freshly thawed cookie any time.
 
This recipe is fairly standard and easy to put together. I did what I almost always do with cookies – I make the dough ahead of time, portion them into dough balls and put them in the freezer. Then I bake them at least a day later, right before I need them. This was part of a baking drop off at my old company so I baked them the same morning I delivered them. I think they were barely cool before I piled them on a plate and brought them over. As with all chocolate cookies, I actually timed this one in the oven since it's hard to tell when chocolate cookies are done since you can't go by how "brown" the edges look. And there's nothing worse than overbaked, dry chocolate cookies. I like to underbake mine just slightly so when they cool, they're nice and fudgy. The quality of your cocoa matters since this is where the chocolate flavor comes from. I use Pernigotti from Williams Sonoma but any high-quality cocoa should do.
 
I like this cookie – the richness of the chocolate is offset by the sweetness and chewiness from the coconut and complemented by the macadamia nuts. Wonder of wonders, I didn't even mind the nuts in these cookies and you know I hardly ever like nuts in my cookies. Macadamia nuts are the rare exception though as long as the cookie is thick and chewy or fudgy. I don't think I would feel the same if this had been made with almonds or pecans (and I love those, too – just not in cookies)
 Chocolate Chunk Coconut Macadamia Cookies
From The Buttercup Bake Shop Cookbook by Jennifer Appel
Makes 3 to 4 dozen cookies
 2-1/2 cups all-purpose flour
1/2 cup unsweetened cocoa powder
1 teaspoon baking soda1 teaspoon salt
1-1/3 cups (2-2/3 sticks) unsalted butter, softened
1 cup sugar
1 cup firmly packed light brown sugar
2 large eggs, at room temperature
2 ounces semisweet chocolate, melted
2 tablespoons milk
2 teaspoons vanilla extract
1-1/2 to 2 cups semisweet chocolate chunks
1 cup coarsely chopped macadamia nuts, unsalted
1 cup sweetened, shredded coconut

Recommended:
Chocolate Coconut Crispies
Preheat oven to 350 degrees F.
In a medium bowl, sift together the flour, cocoa powder, baking soda and salt. Set aside.
In a large bowl, cream the butter and the sugars until smooth, about 3 minutes. Add the eggs and mix well. Add the chocolate, milk, and vanilla and incorporate thoroughly. Add the dry ingredients and beat well. Stir in the chocolate chunks, nuts and coconut.
Drop by rounded teaspoonfuls onto ungreased cookie sheets, leaving several inches between for expansion. Bake for 8 to 10 minutes. Cool the cookies on the sheets for 1 minute, then remove to a rack to cool completely.
Carol Ramos blogs at The Pastry Chef's Baking.
Related post: Mini Kisses Chocolate Macaroon Bars
--------------------------------------------------------------
The Christian Science Monitor has assembled a diverse group of food bloggers. Our guest bloggers are not employed or directed by The Monitor and the views expressed are the bloggers' own and they are responsible for the content of their blogs and their recipes. All readers are free to make ingredient substitutions to satisfy their dietary preferences, including not using wine (or substituting cooking wine) when a recipe calls for it. To contact us about a blogger, click here.