Recipes for St. Patrick's Day
(Read article summary)
Whether you are Irish or not, corned beef and cabbage, Irish colcannon, Irish soda bread, and grasshopper pie will help you celebrate the arrival of green.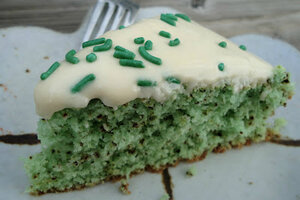 Eat. Run. Read.
Happy St. Patrick's Day from the bloggers at Stir It Up! 
Corned beef, cabbage, potatoes, and carrots is a traditional boiled Irish dinner.
Corned beef and cabbage slaw sliders on St. Patrick's Day are quick enough to let you come home from the parade and have enough time to throw a party.
Lamb and root vegetables team up for a hearty, satisfying lamb stew.
Irish Colcannon is potatoes mashed with boiled kale or cabbage.
Boxty is a classic Irish dish to celebrate with on St. Patrick's Day.
Traditional Irish soda bread is made plain, without sugar or raisins.
Irish soda bread made American with a bit of sugar and currants.
Looking for a vegan Irish soda bread recipe? This one has no eggs, and is super easy and fast to make.
A green tea cake for a festive St. Patrick's Day
A perfect green ending note for St. Patrick's Day.
A fusion food twist on a St. Patrick's Day favorite for holiday leftovers.