Praline banana splits
(Read article summary)
Did you know you can make banana ice cream using just one ingredient? Celebrate National Banana Split Day (Aug. 25) by making praline banana splits.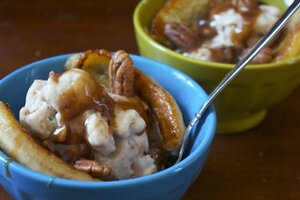 The Gourmand Mom
Here is something delicious. Mouth-watering inspiration came to me in the form of National Banana Split Day, which will take place on August 25. My twist on a banana split includes one-ingredient banana "ice cream," caramelized banana halves, and a decadent pecan praline sauce. Yeah…bananas and praline. Yum. 
You may have run across fancy banana ice cream makers out there, but no specialized tool is required to make this perfectly creamy banana confection. A regular food processor or a good blender will do the trick! And since our "ice cream" is made with pure naturally sweetened, naturally fat-free banana, you can afford to have a little more fun with the toppings, like this pecan praline sauce. Once you try this sauce, you're going to want to pour it over everything. In fact, I plan to make a second batch to drizzle over my husband's birthday cheesecake. Best yet, made with fat-free milk, it's a lighter version than many cream-laden praline sauce recipes, with no sacrifice to the crave-worthy end result.
Praline Banana Splits

Recommended:
Travel: Tijuana coconut treat
Ingredients
For the Praline Sauce*
 1 teaspoon butter
1/6 cup pecans, chopped
1/2 cup dark brown sugar
1/3 cup milk (fat-free works well)
1-1/2 teaspoon cornstarch
Pinch of salt
For the Caramelized Bananas
 1 banana, peeled and sliced in half lengthwise
1 teaspoon butter
1 teaspoon brown sugar
For the Banana "Ice Cream"
 3 medium or 4 small bananas, sliced and well-frozen.
For the Praline Sauce: Stir the cornstarch and salt into the milk. Set aside. Melt the butter in a pan over medium heat. Add the pecans and cook for 1-2 minutes, stirring frequently, until lightly toasted. Reduce the heat to low and stir in the brown sugar, until it begins to soften and melt. Whisk the milk mixture into the pecan mixture. Raise the heat back to medium. Continue whisking until the mixture bubbles and thickens, about 1-2 minutes. Remove from the heat and cool slightly.
For the Caramelized Bananas: Combine the butter and brown sugar in a pan over medium heat. Once the butter has melted, place the banana halves in the pan, cut-side down. Gently move the bananas in the pan so that the cut-side becomes coated with the butter and sugar. Cook for 3-5 minutes, until the cut-side develops a golden brown crust. Remove from the pan and cool slightly. Cut each banana half into half crosswise.
For the Banana Ice Cream: Place the frozen bananas pieces into a food processor or blender. Begin by pulsing the slices until they are mostly broken up. Then, continue blending the mixture until it's smooth and creamy like ice cream.
To Assemble the Banana Splits: Place a large scoop of the banana ice cream in each bowl. Arrange two of the bananas pieces on the sides. Top with a tablespoon or two of the warm praline sauce. Garnish with additional pecans, if desired.
Makes 2 generous banana split sundaes
*Recipe for the Praline Sauce adapted from the EatingWell recipe
Related post on The Gourmand Mom: Strawberry Banana Bread