Grilled pork tenderloin stuffed with mushrooms and pear
(Read article summary)
A butterflied pork tenderloin is stuffed with sautéed mushrooms, pear, shallots and sage, then grilled both indirectly and directly.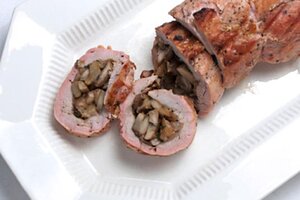 Blue Kitchen
We're experiencing the season's first real bout of don't-heat-up-the-kitchen weather here in Chicago. So this weekend, I fired up the grill. For my inaugural grilled meat meal of the year, I turned to a recipe inspired by one of our favorite vegetarians. You may remember the recent vegetarian pasta dish based on a side served by our friend Laura. Well, even though she doesn't eat meat, she knows how to cook it.
Two elemental flavors come together beautifully in this recipe. With two cups of chopped mushrooms, the filling delivers a delicious, earthy taste. And a combination of indirect and direct grilling adds plenty of smokiness to the pork tenderloin.
The pear adds a slightly sweet note that plays nicely with pork. And sage and pork? What's not to like? Laura didn't grill her wonderful stuffed tenderloin; she pan seared it, then roasted it in the oven. Many recipes call for this approach – in fact, that had been my plan until temperatures started rising. Either method produces delicious results, but I'm happy with what the smoke brought to the party.
Grilled pork tenderloin stuffed with mushrooms and pear 
Serves 4
6 ounces mushrooms (I used cremini – buttons are also fine)
2 tablespoons unsalted butter
1 tablespoon olive oil
1 large shallot, chopped (or 1 medium onion and a minced clove of garlic)
1 pear, peeled and diced
Salt and freshly ground black pepper
1 generous tablespoon chopped fresh sage (or 1 teaspoon dried)
1 pork tenderloin, 1-1/4 to 1-1/2 pounds
Special equipment: pieces of kitchen twine, soaked in water
1. Slice and/or chop the mushrooms (I bought sliced mushrooms and chopped the larger slices into smaller pieces). You should have a generous two cups of mushrooms when finished.
2. Heat the butter and olive oil in a large sauté pan over medium flame.
3. Add mushrooms, shallot, and pear to skillet and toss to coat with butter and oil. Season with salt and pepper and cook for 12 to 15 minutes, stirring frequently to avoid overly browning the shallot.
4. Add sage and cook until fragrant, about 45 seconds. Remove from heat and set aside.
5. If you're working with a charcoal grill (I was), start your coals now and prepare the tenderloin (step 6). When the coals and the meat are both ready, set up your grill for indirect grilling, pouring the coals on one side. If you're using a gas grill, set it up for indirect grilling (he said, having no idea how you do that).
6. Butterfly the pork tenderloin, slicing it down the middle lengthwise without cutting all the way through. Open the tenderloin like a book on a cutting board and cover with plastic wrap. Using the side of a meat mallet or a medium-sized heavy saucepan, pound it until it is about 1/2-inch thick, work from the center to the edges of the tenderloin.
7. Arrange the mushroom filling down the middle of the tenderloin lengthwise, spreading it evenly. Starting with a long side, roll the tenderloin as tightly as possible. Tie it in 4 places with the twine and trim off the loose ends (this will reduce the chance of the twine catching fire on the grill).
8. Brush the tenderloin with oil and season with salt and pepper on all sides.
9. Lightly brush the grill with oil and lay the tenderloin on the side not over the coals.
10. Cover the grill (with vents open) and let it cook for 20 minutes, turning the tenderloin at the halfway mark. Move the tenderloin over the coals and cover the grill. Cook for another 10 to 15 minutes, turning once, or until an instant read thermometer registers 140 degrees F. when inserted in the center. Transfer to a platter or cutting board and tent with foil. Let the tenderloin rest for about 5 minutes and then slice crosswise into medallions. Serve. (Make sure no one gets a piece of twine.)
Kitchen Notes
As you can see from the photo above, I didn't achieve the classic spiral of filling. To do so, chop the mushrooms and the pear finer and spread the filling a little thinner on the butterflied tenderloin. Maybe be a little less generous with the filling as well. As it was, I liked the chunkier bits of filling – both their appearance and their individual pops of flavor – as we ate.