The right rocks are essential for a rock garden
Choosing the right rocks and stones for a rock garden sounds simplistic, but this essential task isn't as simple as it sounds.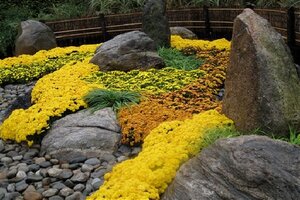 Dean Fosdick/AP Photo
with lichens on them are a bonus. They give you a patina kind of look."
Editor's note: For more on gardening, see the Monitor's main gardening page, which offers articles on many gardening topics. Also, check out our blog archive and our RSS feed. You may want to visit Gardening With the Monitor on Flickr. Take part in the discussions and get answers to your gardening questions. If you join the group (it's free), you can upload your garden photos and enter our contests.