A gardening opportunity just blew in
(Read article summary)
When a tree was blown down in the garden, it presented opportunities to make some changes.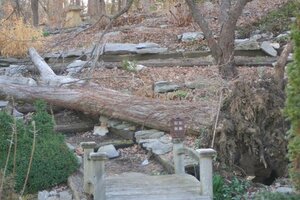 Courtesy of Gene Bush
Remember the classic vampire flicks where the camera entered a bedroom large enough to sleep a royal family?
Always present were very large windows or French doors to the right of the calm room. Suddenly, a powerful and dramatic wind drove sheer draperies almost straight out into the room while simultaneously the double doors or window shutters slammed shut.
You knew without a doubt that the heroine was going to receive an unexpected guest who was batty for late night snacks.
Sometimes opportunity blows in on a sudden and dramatic wind. Perhaps you may not even know opportunity for whom, our heroine or the vampire.
When I began gardening, one of the mature trees becoming the centerpiece of the garden was a red, or slippery, elm (Ulmus rubra). Over the years, it anchored a space along a small wet-weather stream.
The base of the tree has seen many plant companions over the past 20 years. Last, and most permanent, has been Arum italicum in drifts with hellebores and ferns.
Each year, something new happened
But in spring about five years ago, the tree leafed out and then proceeded to drop every leaf, to die seemingly overnight.
Making the most of my predicament, I renamed the tree "my woodpecker breakfast nook" to help out my favorite feathered friends, and to keep from arborists from stomping around in my garden. I also transplanted a climbing hydrangea (Schizophragma 'Moonlight') at the base to dress up the dead tree.
Last year winds took out about one-fourth of the top of the red elm, dropping debris on my white-blooming redbud, destroying a large section of it.
This spring, strong winds root-wadded and toppled the entire tree, taking out another section of the redbud. Overall, I was very fortunate, for the tree fell in the middle of the main path, avoiding other trees and shrubs, and we were able to clean up the mess without resorting to walking on newly emerging plants.
Coping with the changes
The death of that one tree has brought a lot of unexpected changes to my garden, and both my plants and I have had to adjust. While I regret the loss of a mature tree in my garden, those forced changes also became an opportunity.
The remaining stump and roots are too large to move, so the trunk is about to become support for a native clematis to scramble over.
The hole where the roots once were now will be filled with good soil. I am focused on a new, exotic tree to take up residence where the red elm once stood, to one day hold a climbing hydrangea of its own.
My dramatic wind turned out to be less than the forecast tornado. If I feel a presence in my garden other than myself, it is the call of a garden center with the name of a new tree. However, just to play it safe, I may transplant a few sprigs of garlic beside the garden gate.
-----
Gene Bush, a nationally known garden writer, photographer, lecturer, and nursery owner, gardens on a shaded hillside in southern Indiana. His website is www.munchkinnursery.com. He also writes the Garden Clippin's Newsletter. To read more by Gene at Diggin' It, click here.