Hey, Soul Sister by Train, Angry Birds top iTunes top music and apps lists for 2010
Eminem and Ke$sha had the best-selling albums on iTunes and the addictive game Angry Birds was the top selling mobile app.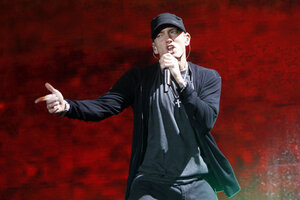 Jason DeCrow/AP/File
Train rode to the top of the iTunes charts in 2010: The group's catchy "Hey, Soul Sister" was the top-selling song of the year.
Katy Perry's "California Gurls" with Snoop Dogg is No. 2, while Eminem's "Love the Way You Lie" featuring Rihanna is third. Rounding out the top five is B.o.B's "Airplanes" with Hayley Williams and Taio Cruz's Dynamite.
Eminem has the top-selling album with "Recovery," followed Ke$ha with "Animal." Lady Gaga came in at No. 3 with "The Fame," ''Need You Now" from Lady Antebellum was No. 4 and Taylor Swift's "Speak Now" was fifth.

Recommended:
New York's proposed 'iTunes tax'
The Oscar-winning "The Hurt Locker" was iTunes top-selling movie; "Glee: The Power of Madonna" was the top-selling TV episode: and the addictive game "Angry Birds" was the No. 1 selling app.