Ozzy Osbourne teams up with Justin Bieber
Ozzy Osbourne and Justin Bieber have teamed up to do a Super Bowl ad together.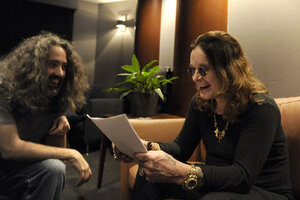 Paul Beaty/AP/File
Fresh-faced Canadian teen idol Justin Bieber has teamed up with veteran rocker Ozzy Osbourne and his wife Sharon to make a Best Buy commercial for next month's Super Bowl, the U.S. electronics chain said on Thursday.
Bieber, 16, currently the world's biggest teen singing sensation, and the 62 year-old "Black Sabbath" frontman and his wife, an "America's Got Talent' judge, filmed the commercial in Los Angeles earlier this month.
Best Buy gave no details but said the ad would "showcase creativity and humor" to millions of Super Bowl TV viewers.
"We're delighted to have Justin and Ozzy help us tell the Best Buy story. We know people have high expectations for these ads and Justin and Ozzy add a whole new dimension of fun," said Best Buy's senior vice president of U.S. marketing, Drew Panayiotu.
The spot is the first Super Bowl commercial from Best Buy, the top U.S. consumer electronics retailer.
The annual National Football League Championship game is the most-watched event on television, drawing more than 100 million viewers, and has become a showcase for quirky and innovative commercials.
The 2011 Super Bowl pits the Green Bay Packers against the Pittsburgh Steelers on February 6 in Dallas.
Christina Aguilera will sing the national anthem and The Black Eyed Peas will perform in the halftime show.