Ashley Hebert chosen as leading lady for 'The Bachelorette'
Ashley Hebert, of Maine, has been selected as the leading lady for ABC's The Bachelorette.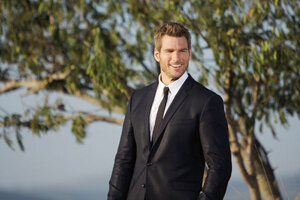 Mark Wessels/ABC/Newscom
Maine native Ashley Hebert has been chosen as the new "Bachelorette" after making it to the final three on the reality TV show "The Bachelor."
Jimmy Kimmel announced Monday during his late-night TV show that 26-year-old Ashley Hebert has been selected as the leading lady on the ABC-TV reality show.
Hebert told Kimmel she learned only recently she had been chosen for the leading role on "The Bachelorette," which premieres May 23.

Recommended:
Netflix: The next HBO?
For the show, 25 men will compete for Hebert's affections.
Hebert is from the northern Maine town of Madawaska and is now a dental student in Philadelphia.