Review: 'Bride Wars'
A taffy-brained chick flick about two brides whose big day has inadvertently been booked at the same place, same time.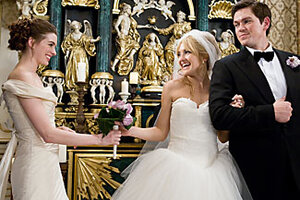 Courtesy of Twentieth Century Fox and Regency Enterprises
Assuming it turns out to be as popular as "Sex and the City" – a big assumption – "Bride Wars" could set the feminist movement back three decades. Even taffy-brained chick flicks like this one require at least a soupçon of reality, no? But here we have Anne Hathaway as Emma, a penny-pinching Manhattan schoolteacher who has managed to save for her big wedding day at the Plaza Hotel by – well, pinching pennies. As presented here, this wedding must surely cost more than $100,000. Perhaps in these recessionary times Emma wouldn't mind sharing with the rest of the woeful world her economic acumen?
Emma's nemesis and former best friend is Kate Hudson's Liv, whose nuptials at the Plaza are mistakenly set by an imperious wedding planner (Candice Bergen) for the same day. Much sabotage ensues: Emma anonymously sends a package of candies to Liv to fatten her out of her Vera Wang dress, Liv injects orange spray into Emma's tanning lotion, and so on, ad stupidem. By comparison, "Bride Wars" makes "Sex and the City" seem like Jane Austen. Grade: D (Rated PG for suggestive content, language, and some rude behavior.)