Review: 'Extract'
From the creator of "Office Space," a new workplace comedy set in a factory where management wins slightly more of our sympathy.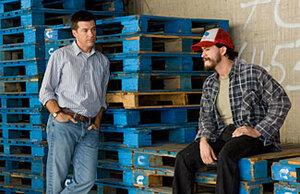 Miramax/Sam Urdank/AP
After his TV success with "Beavis and Butthead" and "King of the Hill," Mike Judge came up with "Office Space" (1999), which achieved iconic status as the film about cubicle culture. His new "Extract" is similar, except the scene has moved from white collar to blue, and the sympathies tilt ever so slightly from working stiffs to management. Jason Bateman plays the diligent, honest entrepreneur whose cooking-extract factory is suddenly threatened when a curvy con woman (Mila Kunis) convinces an injured employee (Clifton Collins, Jr.) to sue. At the same time, he foolishly listens to the harebrained advice of a bartender buddy (Ben Affleck) about dealing with his sagging marriage. The result doesn't seem as fresh as "Office Space," but Judge still comes up with enough laughs to deserve our attention. He is helped more than a little by hilarious work from supporting players Kristen Wiig, David Koechner, J.K. Simmons, and Dustin Milligan. Grade: B (Rated R for language, sexual references, and some drug use.)
• Peter Rainer, the Monitor's regular film critic, is on vacation this week.