Broken Embraces: movie review
Almodóvar and Cruz turn to noir in 'Broken Embraces,' a film within a film that draws on movie greats.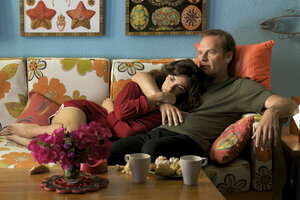 REUTERS/Emilio Pereda & Paola Ardizzoni/El Deseo/Sony Pictures Classics/Handout
No contemporary movie director has worked the history of film into his own films as lavishly as Pedro Almodóvar. He presents you with a pageant of allusions, riffs, and homages, and no more so than in his latest, "Broken Embraces."
He also, increasingly, references his own movies. In "Broken Embraces," which stars Penélope Cruz as an actress who drives both her smitten director and her producer to dangerous distraction, he carries the gambit much further than ever before. It's a movie about a movie director, and it even features a film within a film – actually, it's a film within a film within a film – that is clearly meant to invoke his most popular success, "Women on the Verge of a Nervous Breakdown."
I still consider that giddy, knockabout 1988 movie his best, but in the intervening years he has become far more serioso, and this is true of his filmic models as well. Whereas "Women" drew on Hollywood slapstick classics and satirized (and reveled in) sob sister melodramas of the Joan Crawford variety, he is now much more likely to plunge headfirst into film noir. As always, Almodóvar's game plan is twofold: He wants us to recognize the same movies he does, but he also wants to subvert them – make them his own. He wants to get at the dramatic heart of melodrama.
What Almodóvar is doing is not so very different from what French New Wave directors like Jean-Luc Godard and François Truffaut attempted in their early films. Movies like "Breathless" and "Shoot the Piano Player" were fantasias based on beloved hard-boiled Hollywood models. These directors pulled poetry out of pulp, and yet they somehow still managed to preserve pulp's punch.
All of this is a roundabout way of saying that, during vast sections of "Broken Embraces," I wished I was watching the actual old-time noirs instead of the miasmic concoction that Almodóvar has made from them. He's lost much of his playfulness as a director and in its place is a chichi somberness that many have mistaken for art.
Artfulness is more like it. "Broken Embraces" glides back and forth from past to present with a supernal fluidity, and it offers many near-abstract images of extraordinary delicacy (my favorite: a close-up of a teardrop running down the side of a tomato). But the center of the drama is also abstract, and in ways that are often vague and dimensionless. This film within a film never quite takes on a life of its own.
Three characters predominate: Mateo Blanco (Lluís Homar) is a blind screenwriter and former director who lost his sight in a car accident. Now, many years later, he answers only to the name Harry Caine, the pseudonym he used as a screenwriter. Flashbacks feature Lena (Cruz), the actress, a sometime call girl and secretary, later mistress to a wealthy industrialist, Ernesto Martel (José Luis Gómez). He finances her Mateo-directed movie but his jealousy is so all-consuming that he has his son (Rubén Ochandiano) covertly film Mateo and Lena and then hires a lip reader to decipher their sweet nothings.
This précis is only a tidbit of the entire story line, which involves all sorts of double- and triple-whammies played out across decades. If you're a diehard cinéaste, the pileup of movie homages ("Kiss of Death," "Peeping Tom," etc.) has its attractions. But the film-drenched romanticism quickly turns soggy. It doesn't help that Mateo is an impassive sufferer, or that Lena, despite being played by an actress who can hold the screen as few others can, is more a noir vamp compendium than a character. Memo to Almodóvar: There's more to life – and to movies – than movie love. Grade: B (Rated R for sexual content, language, and some drug material.)