Nine: movie review
Star-studded 'Nine' is a fast-moving musical about an Italian movie director with a seriously complex love life.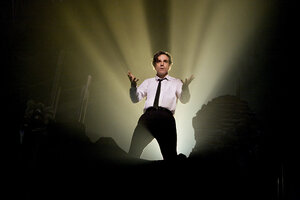 David James/The Weinstein Company/AP
The hit 1982 Broadway musical "Nine" was based on the classic 1963 Fellini movie "8-1/2" and, now, many revivals later, it's been turned into a movie musical by some of the folks who gave you "Chicago." Like that film, also directed by Rob Marshall, it's heavy on pizazz and eye candy. Daniel Day-Lewis plays Guido, the Italian genius movie director who is caught up in a maelstrom of his own making – he's set to direct a movie for which he hasn't even written the script, and his mistress (played by Penélope Cruz) is vying with his wife (Marion Cotillard). Hounded by paparazzi, hangers-on, agents, managers, and assorted other predatory zoological specimens of showbiz, Guido becomes his own best protagonist.
The script that Michael Tolkin and the late Anthony Minghella fashioned from the musical – with a book by Arthur Kopit and music and lyrics by Maury Yeston – is deft and fast-moving, but shouldn't a musical have at least a few songs you can hum on your way home? Call me old-fashioned, but I can remember when musicals were about the music. No longer. (The biggest Tony Award-winning musical in history was "The Producers." Can you name me one song from it besides "Springtime for Hitler"?) It's still worth seeing "Nine" for Day-Lewis's bemused intensity and for the showstopping appearances by Sophia Loren (still looking great), Kate Hudson, Dame Judi Dench (yes, she sings), and Cruz. But a lot more talent and energy is expended on this show than it warrants. Grade: B- (Rated PG-13 for sexual content and smoking.)