Cop Out: movie review
An homage to buddy-cop movies, 'Cop Out' tends to fall flat on comedy as well as character chemistry.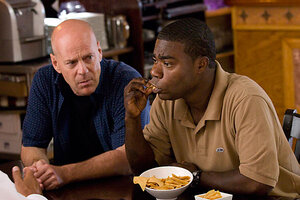 Abbot Genser/Warner Bros./AP
Take two cops – partners Jimmy (Bruce Willis) and Paul (Tracy Morgan) – who love each other and drive each other crazy. Construct a rickety story involving a Mexican drug cartel (in New York?), the disappearance of Jimmy's invaluable 1952 Andy Pafko trading card, a stolen Mercedes, a kidnapped hooker (Ana de la Reguera), and two smug rival officers (Kevin Pollak and Adam Brody). Make Paul unbearably obnoxious, and then make him look better by adding an even more obnoxious thief (Seann William Scott). Have director Kevin Smith ("Chasing Amy," "Dogma") throw it on the screen.
What do you get? "Cop Out": The quintessential buddy-cop film ... and I don't mean that in a good way. Smith is a very funny guy, but plot has never been his specialty, and this is nearly all plot. There are a few hilarious bits, but even those are drowned out by constant gunfire and Morgan's motormouthing. Willis is going through the motions; Scott is funny, if irritating; Morgan is irritating and not so funny. Grade: D+ (Rated R for pervasive language including sexual references, violence, and brief sexuality.)