Mother: movie review
A psychological thriller set in South Korea, 'Mother' is unpredictable at every turn.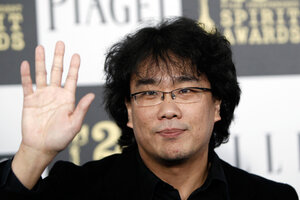 Matt Sayles/AP/File
The South Korean director Bong Joon-ho is best known abroad for his terrific new-style monster movie "The Host," about a river serpent spawned by toxic waste. In "Mother," he presents us with a different type of monstrousness.
Do-jun (Weon Bin), a mentally challenged 27-year-old who lives with his widowed mother (Kim Hye-ja) in a nondescript town, is accused of brutally murdering a young girl. Although he confesses under police pressure, his mother campaigns for his innocence by, in effect, acting as a one-woman truth squad.
Nothing in this movie plays out the way you expect it to. Bong's style is comically tart even in the film's most noirish moments, and Kim, a legendary actress in South Korea but almost unknown outside it, is formidable as a matriarch who will go to any lengths to make things right. Grade: B+ (Rated R for language, some sexual content, violence, and drug use.)
Other movie reviews
Harlan – In the Shadow of 'Jew Süss'