Holy Rollers: movie review
A young orthodox Jew gets seduced into drug running in 'Holy Rollers,' only to find that life gets nastily complicated.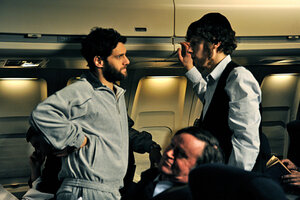 First Independent Films/AP
"Holy Rollers" probably sounded like a good idea on paper, plus it's "inspired by" a true story. Sam Gold, a Brooklyn Hasid training for the rabbinate, becomes a drug courier. How could such a high concept sink so low?
A big reason is that, as Sam, Jesse Eisenberg, despite being perfectly cast, is lackluster. He never bothers to fill in the role. We get little sense of how Sam feels about the Orthodox community he is rebelling against, what it means to him, or how he feels about being so successful (for a time) in his new "trade."
His drug-smuggling underworld, specifically the Amsterdam-New York connection, is likewise drably depicted. Is this because director Kevin Asch and screenwriter Antonio Macia deliberately played it down, or are they just incompetent? I'll be charitable and vote for the former, but sometimes sensationalism is preferable to being altogether unsensational. Grade: C- (Rated R for drug content and language throughout, and brief sexual material.)
More Monitor movie reviews