Soul Kitchen: movie review
A German-Greek restaurant owner tries to take the menu upscale in 'Soul Kitchen' and mayhem ensues.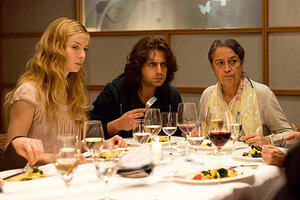 Newscom
After the heavy-going angst of Turkish-German director Fatih Akin's previous films "Head-On" and "The Edge of Heaven," "Soul Kitchen" is a pleasant enough piffle. I can't escape the feeling, however, that, if it had been done in Hollywood, without subtitles, it would be deemed no better than midrange Judd Apatow fare.
It's about Zinos (Adam Bousdoukos), a German-Greek restaurant owner in working-class Hamburg whose life is a series of follies. His girlfriend has decamped to a job in Shanghai, his restaurant is under siege from predatory real estate developers and the health department, his new upscale menu is a flop with his schnitzel-centric clientele, and his jailbird younger brother Ilias (Moritz Bleibtreu), who is given power of attorney over the eatery, loses it in a card game.
The humor is broad, the jokes not of the first freshness, and the cast, especially Bousdoukus, is hammy. And, for the record, the upscale menu, which is supposed to be scrumptious, doesn't look as tasty as the downscale one. Grade: B- (Unrated.)
More Monitor movie reviews