The Last Exorcism: movie review
In 'The Last Exorcism,' an evangelist and con man documents his final exorcism on film with a few terrifying surprises.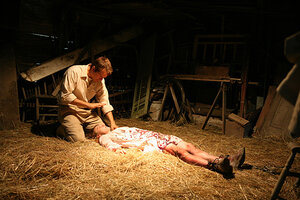 Patti Perret/Lionsgate/AP
The latest entry in the pseudo-documentary horror film sweepstakes, "The Last Exorcism" has its terrifying moments and its silly ones.
Cotton Marcus (Patrick Fabian) is an evangelist who has been barnstorming since he was a kid. (He appears to have been modeled somewhat on Marjoe Gortner, who was the subject of the 1972 documentary "Marjoe.") He's also a con man. Intending to blow the lid off his charlatanism, he brings along a camera crew to a rural Louisiana home to document how he fakes the exorcism of the stricken daughter (Ashley Bell, suitably high-strung) of a fundamentalist farmer (Louis Herthum). Cotton, of course, ends up confronting more than he anticipated.
The director, Daniel Stamm, and writers Andrew Gurland and Huck Botko are trying for more than a run-of-the-mill horror cheapie – the rural atmosphere is well wrought and so is the depiction of phony evangelism – but it all devolves into the usual heebie-jeebies by the end. Grade: B- (Rated PG-13 for disturbing violent content and terror, some sexual references, and thematic material.)
More Monitor movie reviews