Catfish: movie review
Cast as a documentary about online romance, 'Catfish' is full of surprises – and ethical questions.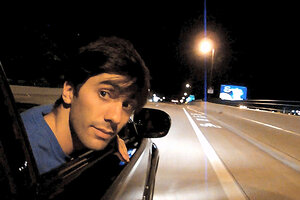 Rogue Pictures/AP
When an 8-year-old Michigan girl named Abby paints a photograph from the New York Sun newspaper and e-mails her handiwork to the man who took the shot, her gesture seems at first heartwarmingly innocent. Yaniv ("Nev") Schulman, the photographer, and Abby strike up a virtual relationship, while Nev's brother Ariel and his codirector Henry Joost, decide to document everything on video.
"Catfish," another in a series of no doubt numberless documentaries about the hazards of online networking, is the result. Is there really an Abby? And what about her big sister Megan, with whom Nev carries on a Facebook romance?
Not much can be said about this film without giving the show away, but it must be said that the filmmakers, who profess to be as surprised as we are about how things play out, are being disingenuous at best and underhanded at worst. It's one thing to be willfully naive, quite another to pursue a story and intrude on people's lives knowing that, without such an intrusion, you won't have a movie. Grade: C+ (Rated PG-13 for some sexual references.)
-----
More Monitor movie reviews:
Wall Street: Money Never Sleeps
You Will Meet a Tall Dark Stranger