Never Let Me Go: movie review
Based on Ishiguro's acclaimed novel, 'Never Let Me Go' is moving and mournful.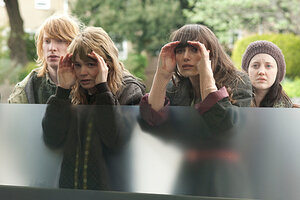 Alex Bailey/Fox Searchlight/AP
"Never Let Me Go," adapted from the acclaimed 2006 novel by Kazuo Ishiguro and directed by Mark Romanek, is a dystopian creepfest about British boarding school students who are cultivated for a nefarious purpose I shall not disclose.
But I can say that director Mark Romanek, in making parable about the life force and its losses, overdoes the lifelessness. The film's imperious drabness is doubtless intentional, but it makes for a wearying experience.
The excellent cast is headed by Carey Mulligan, Keira Knightley, and Andrew Garfield. They have a depleted, slightly zombified demeanor, and you feel for them. "Never Let Me Go" is strangely moving and mournful, but I wish more had been made of the beauty these people are relinquishing, if only as a counterweight to all that artful drear. Grade: B (Rated R for some sexuality and nudity.)
-----
More Monitor movie reviews:
Wall Street: Money Never Sleeps
You Will Meet a Tall Dark Stranger