Vince Vaughn stars in 'The Dilemma': movie review
Vince Vaughn plays a man who discovers his best friend's wife is having an affair. Designed to be a comedy, 'The Dilemma,' starring Vince Vaughn, Kevin James and Jennifer Connelly, is more of a goofball melodrama with unfunny slapstick.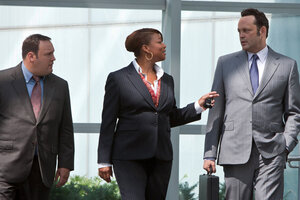 Chuck Hodes/AP Photo/Universal Pictures
Vince Vaughn is paired with Kevin James in "The Dilemma," a movie that Ron Howard probably wishes he could delete from his filmography. It's being promoted as a goofball comedy but it's more like a goofball melodrama interlaced with unfunny slapstick.
Vaughn's Ronny and James's Nick are longtime friends and partners in an autodesign firm. Ronny's girlfriend, played by Jennifer Connelly, is waiting for him to pop the question but she's not too pushy about it.
Related: Ten best movies of 2010
When Ronny accidentally catches Nick's wife (Winona Ryder) canoodling with another man, he becomes obsessed with telling his buddy about it. Why he thinks this is such a great idea is anybody's guess.
The script by Allan Loeb careens all over the place without ever coming to rest on anything interesting. Grade: D+ (Rated PG-13 for mature thematic elements involving sexual content.)
-----
More Monitor movie reviews: