The Future: movie review
An oddball art-house movie, 'The Future' is narrated by Paw Paw, a cat waiting for adoption.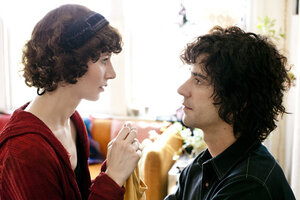 Roadside Attractions/AP
Miranda July is, for some, a triple threat: writer-director-actress of uncommonly poetic gifts and, even rarer, a sense of humor. She's written some graceful fiction and debuted as a filmmaker with "Me and You and Everyone We Know," a performance art-style piece about loneliness that has its moments – although not as many as its enthusiasts claim.
"The Future," July's coy and precious new film, is just oddball enough to be interesting, if not good. It stars July as Sophie, a discombobulated children's dance instructor who, with her boyfriend, Jason (Hamish Linklater), is planning to bring home from a shelter an ailing cat named Paw Paw once it recovers in a month. They prepare for the event like expectant parents. (Paw Paw, by the way, narrates – a Disneyfied art-house touch.)
There are some amusing scenes of Sophie's dance videos (she's not much of a dancer) and Jason going door to door for anti-global warming solicitations. There are also a few arresting ideas – like the way Jason freezes time when he's distraught over Sophie's infidelity and needs to think things over. But even here, the trickery can be pretty tenuous. July, like Hal Hartley, another overrated art-house luminary, is an acquired taste I have yet to acquire. Grade: B- (Rated R for some sexual content.)