Robert Redford: Our readers' favorite films
Robert Redford celebrates his birthday today, and we asked the Monitor's followers on Facebook what their favorite films were by the legendary actor and director. Here are the top five: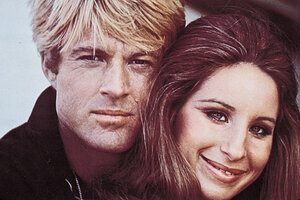 5.

The Way We Were (1973)

Directed by Sidney Pollack and starring Redford and Barbara Streisand, this romantic drama follows the lives of two people who really have nothing in common. Redford plays an apolitical blue-blood sitcom writer, and Streisand plays a strident Marxist. Naturally, they marry and have a child, only to subsequently split up.

Film critic Roger Ebert says this of Redford's performance: "The Redford character perhaps in reaction to the inevitable Streisand performance, is passive and without edges. The primary purpose of the character is to provide someone into whose life Streisand can enter and then leave. That's sort of thankless, but Redford handles it well."