Our Idiot Brother: movie review
In 'Our Idiot Brother,' Paul Rudd plays an idealist who barges into the lives of his three sisters and becomes the family savior in spite of himself.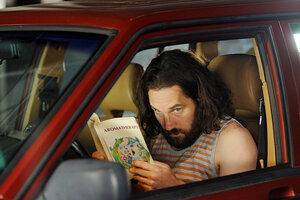 Nicole Rivelli/The Weinstein Co./AP
Paul Rudd stars as the "idiot" in "Our Idiot Brother," a genial comedy that is too pokey for its own good. Rudd's Ned Rochlin, recently jailed for selling pot to a uniformed police officer, is released into the world without a job, a home, or even his beloved dog, Willie Nelson. (His former girlfriend, with whom he lived hippie-style on a biodynamic farm, claims custody.)
He ends up imposing himself on each of his three very different sisters, played by Elizabeth Banks, Zooey Deschanel, and Emily Mortimer. The locations range from Brooklyn's Park Slope to the West Village, from bohemia to the gleaming offices of Vanity Fair magazine. Throughout it all Ned is not idiotic exactly, just affably clueless.
The cast members, beginning with Rudd, have an improvisatory ease, and the director, Jesse Peretz, working from a script by Evgenia Peretz and David Schisgall, doesn't indulge in the sort of nail-on-the-head comedy that currently reigns. Still, "Our Idiot Brother" too often ambles into inconsequentiality. And, predictably, Ned becomes a kind of family savior – the idiot becomes the sage. It's Frank Capra for dummies. Grade: B (Rated R for sexual content including nudity, and for language throughout.)