Vera Farmiga directs, stars in 'Higher Ground': movie review
'Higher Ground' explores one woman's crisis of faith in a fundamentalist community but falls short on the exploration part despite the sensitive treatment.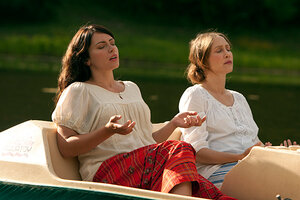 Sony Pictures Classics/AP
Vera Farmiga's directorial debut, "Higher Ground," stars herself as a child of the 1960s from an unhappy family who marries a singer-songwriter (Joshua Leonard) for a teen band. A near-tragedy involving their baby daughter propels the couple into a small fundamentalist community, where the loss of Corinne's best friend (Dagmara Dominczyk), and the community's conservative tenets, initiate a crisis in her faith.
As the teenage Corinne, Taissa Farmiga, the director's younger sister, does a creditable job, and Vera Farmiga, as the adult Corinne, shows flashes of what make her, at her best, one of the finest actresses of her generation. But the film, scripted by Carolyn Briggs and Tim Metcalfe, doesn't get very deep inside Corinne's conflicts, and the tonal shifts, from somber to goofy, seem imposed rather than organic.
"Higher Ground" is one of the few open-minded Hollywood movies about Christian fundamentalism, but the mind isn't sufficiently exploratory. Grade: C+ (Rated R for some language and sexual content.)