Cinema Eye nonfiction movie finalists
Eleven films are finalists for the Cinema Eye Honor for Outstanding Achievement in Nonfiction Short Filmmaking for 2012, with the films coming from six different countries. What will make the cut when the finalists are narrowed down to five on Oct. 26?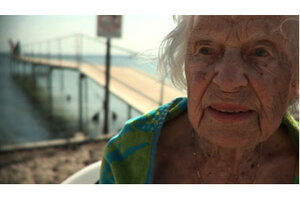 Photo courtesy "Bathing Micky" website
1.

"Bathing Micky (Micky Bader)"

Directed by Frida Kempff, the film from Sweden tells the story of 100-year-old Ebba "Micky" Heyman, who goes swimming every day with friends.