In the Land of Blood and Honey: movie review (VIDEO)
Directed by Angelina Jolie, 'In the Land of Blood and Honey' doesn't flinch from its harrowing portrayal of the Bosnian conflict as seen through the relationship of a Muslim woman and a Serb officer.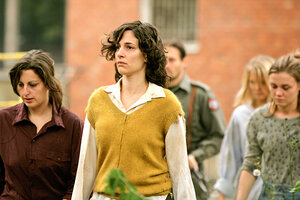 Film District/AP
Angelina Jolie's directorial debut, about the Bosnian conflict in the early 1990s, is not the vanity project many may have feared. For the most part it's straightforward and hard-hitting and free of cant. It follows a Christian Serb, Danijel (Goran Kostic), and a Bosniak Muslim woman, Ajla (Zana Marjanovic), whose lives are ripped apart as the war ensues. A former cop, Danijel becomes a Serbian officer; Ajla, an artist, is rounded up and sent to a prison camp, where Danijel, with whom she shared a pre-war flirtation, rescues her from rape. 
The tenuous, harrowing, erotic connection between Danijel and Ajla is the film's centerpiece. He protects her by sequestering her in private quarters and makes her his mistress.
Jolie, who also wrote the film, doesn't quite know how to plumb the deepest reaches of their relationship. Danijel, who cares for Ajla while at the same time carrying out his mission of ethnic cleansing, is the least fully explored character in the movie, which leaves a big blur at its core. Still, this is an impressive piece of work that doesn't flinch from the atrocities that no doubt motivated Jolie to make the film in the first place. Grade: B (Rated R for war violence and atrocities, including rape, sexuality, nudity, and language.)
--
Angelina Jolie talks about her directorial debut: